The Great Buddha Statue in Bodhgaya, India
The unveiling and consecration of the Great Buddha Statue took place on November 18, 1989. The consecration ceremony was graced with the presence of His Holiness the XIVth Dalai Lama, who blessed the 25-meter statue, the first great Buddha ever built in the history of India. The Statue is now a symbol of the holy place Bodhgaya, next to Mahabohdi Temple which is a World Heritage site, and enjoys constant visits of pilgrims from all over the world. Among local people, it is nicknamed "the 80-foot (25-meter) Buddha Statue."
Under the slogan "Spread Buddha's rays to the Whole World," Daijokyo spent seven years on construction of the Great Buddha Statue, mobilizing 120,000 masons in total. The greatest driving force for this massive project was the pure heart of people, who wish for further expansion of Buddhism from the holy place Bodhgaya, as well as for the realization of world peace. We Daijokyo believers shall never forget this fact.
Hours: 7:00 to 12:00, 14:00 to 18:00 (to 17:30 in winter)
For further infomation about the Great Buddha Statue in Bodhgaya, contact:
Daijokyo Buddhist Temple
Great Buddha Statue Road
Post Box No.20
P.O.Bodhgaya 824231
Gaya, Bihar, India
Tel. 631-2200-747
Fax. 631-2200-407
E-mail:
daijokyotemple_bg@yahoo.co.in
or
Daijokyo Sohonzan Temple
4-7 Sotodoi
Atsuta, Nagoya
Japan 456-0013
Tel.. 052-671-6146
Fax. 052-678-5255
E-mail:
info@daijokyo.or.jp
URL:
http://www.daijokyo.or.jp
Welcome
to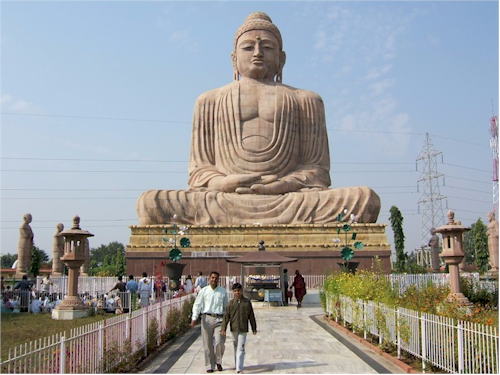 Established in 1989 by Daijokyo in Bodhgaya, India(height: approx.25m)
"The 80-foot Buddha Statue" in Bodhgaya, India